Used Office Trailers in Orlando, FL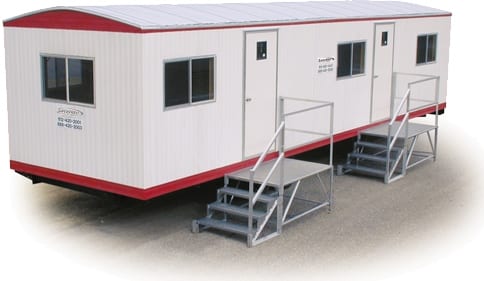 – Construction Office Rentals
– Office Trailers
– Mobile Sales Offices
– Mobile Classrooms
– Portable Buildings
How it works. . .
1. Fill out a simple form
2. Get FREE written quotes to compare.
3. Select the best offer and save!
Save Up To 30% on Mobile Offices, Trailers, and Portable Buildings
Rent, Buy, Lease Used Office Trailers
When finding the right portable for your business needs, making the economical choice with used office trailers might be the direction you want to head in.
Get ready to expand your work setup.
When your business needs extra space in a way that is economical and effective, you can't go wrong renting or buying a trailer.
Used office trailers are popular choices because they save you plenty of money and let you set up office space that is useful to you. These portable offices can assist your business with any needs that you have.
Consider these tips and look into some office trailers for your business.
Renting or Buying Used Office Trailers in Orlando
When you look into office trailers for rent, there are several style and size options.
Renting an office trailer generally costs between $100 and $500 monthly, while buying it can cost upwards of $20,000.
For a trailer that is 8×20, it'll generally cost you between $100 and $200 per month. A 10×40 trailer can cost upwards of $300 per month, while a trailer that is 12×60 can cost as much as $500 per month.
Check into different sizes to make sure you're clear on how much you'll pay for the rental.
Think about whether you need the trailer for the long-term or short-term since this will dictate what decision make. If you only need a short-term trailer, renting is likely the best choice for you.
When you know that you are going to need this extra space for the long-term, you will want to consider buying or leasing an office trailer.
Solutions:
Mobile Offices

Portable Buildings

Sales Offices

Construction Trailers

Mobile Class Rooms

Office Trailers

Rentals & Purchases

Low Cost Financing Options
Central Florida is booming. In fact, there's been an increase of over 50% in construction projects in the last five years.
All those projects mean a need for new and used office trailers in Orlando. What are your options when buying a trailer and how much does one cost?
Here is your simple guide to used portable office buildings for sale.
How Can Office Trailers Be Used?
Portable office trailers are frequently used on construction jobs. Of course, you might be looking at a job trailer for sale for other reasons.
Sales office
Conference room
Government offices
Power plants
Financial & banking
Temporary medical office
Engineering project site
Temporary office while a permanent space is being built or remodeled.
These are just some of the uses of trailers. Whatever your needs, there is a used trailer to fit them.
Advantages of a Used Office Trailer In Orlando
There are several advantages of buying a used trailer over renting a temporary office.
Fast and easy solution
Flexible and customizable exterior and interior
Affordable (In many cases, it's cheaper to buy or rent a trailer than to

 

rent office space)
Ensures a professional space to conduct business
Multi-functional
Ensures you are accessible on job sites and to your workers
You can look for new office trailers for sale or a used trailer to see what options are available.
What Size Do You Need?
Mobile Office Deals has trailers of all sizes, from 8' x 21' (160-sq.ft.) up to 48' x 60' (2,880-sq.ft.). You can also find different configurations, including single-wide, double-wide, and full line trailers.
Here is a guide to help you choose a size.
Under 400-sq.ft.
Single-wide
Suitable for 1-4 people or 1 office
400 – 800-sq.ft.
Single-wide
Suitable for 4-8 people or 1-2 offices
800+-sq.ft.
Double-wide or Triple-wide
Suitable for 8+ people or 3-4 offices
Kitchen/Break area
You can choose a simple ground level office or modular complex for larger projects.
What Features Do You Want?
Office trailers are highly customizable. The interior can be outfitted with furniture, cabinets or desks to create workstations. Or you can leave an open space for a large table to hold blueprints or designs that need to be laid flat.
Trailers can also include a kitchen and bathroom if you have access to water and sewer lines. Don't worry about enduring a stifling Orlando summer, either, because trailers can be equipped with AC (and heat for those rare cold snaps).
Other available features:
Internet connection
Phone/fax lines
Exterior steps and a ramp (to meet ADA requirements)
You can even customize the exterior with vinyl siding, louvered windows, and shingles on the roof if you want a more pleasing appearance.
How Much Does an Office Trailer Cost in Orlando?
In Orlando, the cost to rent an office trailer is about $140 – $200 a month for an 8' x 20' model.
A larger trailer (8' x 40') costs around $300 – $500 a month to rent. Plus, there is a delivery and set up fee that can be up to $1,000.
If you choose to buy an office trailer, it can cost anywhere from $15,000 – $40,000, depending on size, square footage and features required.
Get a Quote on a Used Office Trailer 
It's easy and affordable to buy used office trailers in Orlando. They offer the flexibility you need while your business expands, during construction or if you just need temporary office space.
There are plenty of options so there is sure to be a used trailer to fit your needs. If you're in the market for a mobile office, check out our inventory. If you already know what you need, fill out our online quote request form.