Used Office Trailers in Sacramento, CA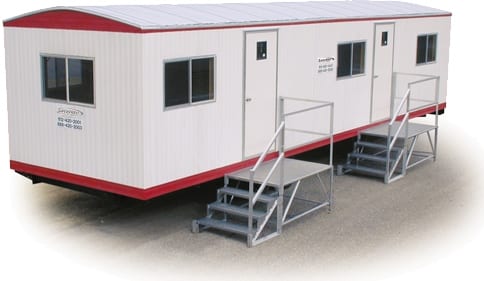 – Construction Office Rentals
– Office Trailers
– Mobile Sales Offices
– Mobile Classrooms
– Portable Buildings
How it works. . .
1. Fill out a simple form
2. Get FREE written quotes to compare.
3. Select the best offer and save!
Save Up To 30% on Mobile Offices, Trailers, and Portable Buildings
Rent, Buy, Lease Used Office Trailers
When finding the right portable for your business needs, making the economical choice with used office trailers might be the direction you want to head in.
Get ready to expand your work setup.
Maybe you run an industrial building or commercial property. Perhaps you run a school. You might be a construction contractor in need of more space for the worksite.
Either way, getting your hands on some reasonably priced trailers can be just what you need. By looking into used office trailers you can find amazing deals.
Determine How You Want to Use the Office Trailer
The way that you use the trailers will determine a lot about the price you pay, type you need, and other factors.
These trailers are useful as standalone offices for storage, or simply to expand the function of your existing business. By simply buying a trailer, you're increasing the square footage of your current situation.
Solutions:
Mobile Offices

Portable Buildings

Sales Offices

Construction Trailers

Mobile Class Rooms

Office Trailers

Rentals & Purchases

Low Cost Financing Options
Have a Price Range in Mind and Shop For Used Office Trailers
Start the process with a budget in mind.
Buying a new trailer can cost you between $20,000 and $30,000 or so. Getting a lease might cost as much as $4,500 for a year.
You can stand to save a lot of money when you shop around for a used trailer instead. Since these trailers are commonplace in construction, commercial and industrial settings, there are always companies looking to liquidate their inventory.
When this happens, you can easily find a used office trailer for a great price.
People also book trailers for rent in many cases to save a bit of money. This gives you more flexibility.
Figure Out What Features and Infrastructure You Need
Saving money on a used office trailer is one thing, but you also need to be sure that it comes equipped with the infrastructure that you need.
Think in terms of electricity, heating and air conditioning, plumbing, and other matters. You'll also want your trailer to have windows that let in plenty of natural lighting. When possible, opt for a trailer that features LED lighting, since it is cost-effective and provides you with lots of visibility.
Before you decide to make a purchase, take the time to get the trailer inspected. This inspection will tell you everything you need to know about its condition and whether it can hold up to the needs you have.
You'll need to make certain that the previous owner took good care of it and that it is worth the asking price.
It would also be useful to buy a warranty to go with the trailer, along with a repair plan. That way you can get a professional contractor out to the trailer to handle any sort of work to keep the trailer in operation.
Buy an Office Trailer That'll Serve You
Buying a used office trailer can serve you in a lot of different ways. When you know what you're looking for, you can easily get a useful trailer at a great price.
We have mobile office deals that will entice you whether you're looking for office trailers, construction offices, modular buildings or any other portable setup.
Reach out to us to get quotes on an office trailer that'll be perfect for your needs.
Sacramento Zip Codes Served: 95652, 95660, 95673, 95758, 95811, 95814, 95815, 95816, 95817, 95818, 95819, 95820, 95821, 95822, 95823, 95824, 95825, 95826, 95828, 95829, 95831, 95832, 95833, 95834, 95835, 95837, 95838, 95841, 95864.