Used Office Trailers in Oklahoma City, OK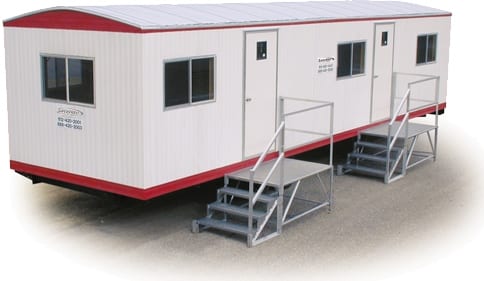 – Used Construction Trailers
– Office Trailer Rentals
– Mobile Offices
– Portable Classrooms
– Portable Buildings
How it works. . .
1. Fill out a simple form
2. Get FREE written quotes to compare.
3. Select the best offer and save!
Save Up To 30% on Mobile Offices, Trailers, and Portable Buildings
Rent, Buy, Lease Used Mobile Office Trailers
In a hurry for temporary office space? A wide range of business owners benefit from using mobile office trailers in Oklahoma City.
Whether you're looking for a mobile trailer that can move with you, or you need space for staff because you're in between locations, we have trailers to fit most business needs.
If you haven't considered a portable office trailer, take a minute and read this post. You'll learn more about how they're used, features, and sizes
Solutions:
Mobile Offices

Portable Buildings

Sales Offices

Construction Trailers

Mobile Class Rooms

Office Trailers

Rentals & Purchases

Low Cost Financing Options

Learn everything you need to know about used construction trailers in Oklahoma City, including common uses, expected costs, and key features to look for.
What do you do when you need temporary office space for a big project in Oklahoma City? Or when you need mobile space like construction companies whose job sites are constantly changing?
You set up mobile office space in construction trailers of course!
Used construction trailers are the way to go when you want to get set up without breaking the bank. Keep reading to learn all about cost, uses, and useful features of construction trailers in Oklahoma City.
How Much Do Used Office Trailers Cost in Oklahoma City?
The cost of construction trailers can vary widely. Size is a factor, but also the trailer's features are key. A smaller used trailer with few features might only cost $8,000 or $9,000. Compare that to the cost of a new one at around $28,000.
Of course, for a larger trailer with a few bells and whistles, the cost can go up significantly. Even some used ones can cost up to $80,000 or more.
Keep in mind the setup fee when considering the cost. This cost can vary from about $1,000-$5,000 depending on the complexity of the installation.
If you need a larger space, you can have two or even three office trailers opened up and welded together. Set up fees will be more expensive in this case, but still less expensive than building an actual building on the site.
Common Uses of Mobile Offices
Mobile offices have many uses in Oklahoma City. The government or health care organizations may set them up as temporary headquarters for disaster relief. Construction companies use them to keep their operation portable as they move job sites frequently.
Churches, schools, businesses in need of overflow office space or temporary storage — all can benefit from using mobile office trailers.
In short, these trailers are an excellent way to provide inexpensive, temporary space.
Features to Look for in Construction Office Trailers
There are a few features that can be considered basic that you will find on virtually all construction office trailers. These include:
HVAC
Basic lighting
Windows
Vinyl floors
To make your trailer more comfortable and more suited to your needs, there are also a few add-on features you can choose. For semi-permanent installations, metal steps and underbelly skirting to keep out rodents and improve insulation are common add-ons.
Bathrooms are a big feature that you should think about especially if there are no other facilities nearby, such as at a construction site. Many larger units come with one as part of the standard package, but you'll still be responsible for hooking it up to utilities.
Depending on the location and what you're using it for, extra security features may be necessary. Common features include a superior locking mechanism or security cameras.
Where to Find Used Construction Trailers in Oklahoma City?
Finding used construction trailers in Oklahoma City is a cinch. Simply get a quote from us here at Mobile Office Deals. We have a wide variety of used trailers in great condition available in our inventory. Whatever you need, we have an option for you!
Don't overspend on fancy new trailers or buildings when an inexpensive used construction trailer will get the job done. Check out our inventory today!