Used Office Trailers in Nashville, TN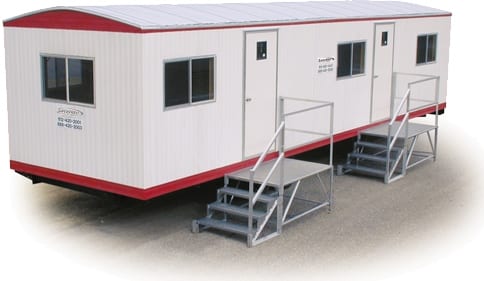 – Construction Office Rentals
– Office Trailers
– Mobile Sales Offices
– Mobile Classrooms
– Portable Buildings
How it works. . .
1. Fill out a simple form
2. Get FREE written quotes to compare.
3. Select the best offer and save!
Save Up To 30% on Mobile Offices, Trailers, and Portable Buildings
Rent, Buy, Lease Used Office Trailers
When finding the right portable for your business needs, making the economical choice with used office trailers might be the direction you want to head in.
Get ready to expand your work setup.
When your business needs extra space in a way that is economical and effective, you can't go wrong renting or buying a trailer.
Used office trailers are popular choices because they save you plenty of money and let you set up office space that is useful to you. These portable offices can assist your business with any needs that you have.
Consider these tips and look into some office trailers for your business.
Renting or Buying Used Office Trailers in Nashville
When you look into office trailers for rent, there are several style and size options.
Renting an office trailer generally costs between $100 and $500 monthly, while buying it can cost upwards of $20,000.
For a trailer that is 8×20, it'll generally cost you between $100 and $200 per month. A 10×40 trailer can cost upwards of $300 per month, while a trailer that is 12×60 can cost as much as $500 per month.
Check into different sizes to make sure you're clear on how much you'll pay for the rental.
Think about whether you need the trailer for the long-term or short-term since this will dictate what decision make. If you only need a short-term trailer, renting is likely the best choice for you.
When you know that you are going to need this extra space for the long-term, you will want to consider buying or leasing an office trailer.
Solutions:
Mobile Offices

Portable Buildings

Sales Offices

Construction Trailers

Mobile Class Rooms

Office Trailers

Rentals & Purchases

Low Cost Financing Options
Are you in charge of a company in Nashville, Tennessee that uses a job site for assignments? Do your employees operate equipment that takes time and money to move and operate?
If so, then we recommend looking for used office trailers in Nashville. This is an opportunity to keep your business on schedule for a variety of tasks no matter where you work.
Today's office trailers also allow you to enjoy a convenient work environment without sacrificing a professional appearance. With our knowledge of mobile offices, you can get tasks done and create a productive work environment.
Here are the benefits you can enjoy with used office trailers with Nashville.
1. Portability
If there is ever a mobile office for sale in your area, you should consider how it can make transportation easy for your company. You can park your trailer feet away from your work sites so that you don't have to go on long drives from office buildings.
Whether your team works on a housing development or construction site, mobile trailers can move wherever you need them to be. Trailer hitches are designed to keep your office in one place and attach securely to whatever vehicle carries it.
2. Staying Comfortable
Used mobile offices for sale give you the opportunity to stay as comfortable as you would be in a traditional office in a more populated area. While the outside can handle the worst that nature has to offer, the inside can keep you warm and relaxed.
Make sure that your prospects have updated heating systems, air-conditioning, overhead lighting, and other features of a traditional office. Today's office trailers also come with electrical systems that give you Wi-Fi for work and entertainment on your downtime.
3. Saving Money
You should keep an eye out for job site trailers for sale so that your business can save money in different areas. One way is through mobile trailers being cheap compared to most vehicles since they often come pre-fabricated.
These offices also save you money by helping you avoid investing in building structures for your company. You can also avoid travel expenses such as gas and tolls for all team members by keeping your office next to job sites.
4. Multiple Uses
Used construction trailers can also improve your business by serving multiple purposes. This is because you can customize your trailer to look and function however you need it to based on your objectives.
Purposes for your mobile office can range from changing areas for your team to a meeting space for employees and clients. You can also modify your trailer to act as a gift shop or concession stand if you are holding an event that involves customer participation.
5. Improved Communication
With used office trailers in Nashville, you won't have to rely on emails and phone calls to stay in touch with your team. You will be just a few feet or yards from the job site so that employees can talk.
This comes in handy if employees have questions that need a quick answer or an emergency happens that requires your assistance. With everyone in one place, you can improve communication channels and company morale.
Our Take on Used Office Trailers in Nashville
Used office trailers in Nashville allow you to stay on top of assignments and keep an eye on your team's progress.
You can save money on transportation and rental space, and you can make yourself easily accessible to your team. With this guide, mobile offices can help you build a reliable name for your company.
For more of our mobile office expertise, check out our guides to make transportation work for your brand.