Used Office Trailers in Louisville, KY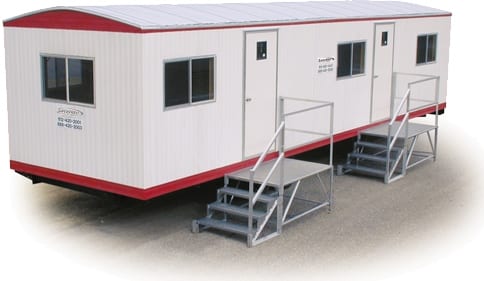 – Construction Office Rentals
– Office Trailers
– Mobile Sales Offices
– Mobile Classrooms
– Portable Buildings
How it works. . .
1. Fill out a simple form
2. Get FREE written quotes to compare.
3. Select the best offer and save!
Save Up To 30% on Mobile Offices, Trailers, and Portable Buildings
Rent, Buy, Lease Used Office Trailers
When finding the right portable for your business needs, making the economical choice with used office trailers might be the direction you want to head in.
Get ready to expand your work setup.
When your business needs extra space in a way that is economical and effective, you can't go wrong renting or buying a trailer.
Used office trailers are popular choices because they save you plenty of money and let you set up office space that is useful to you. These portable offices can assist your business with any needs that you have.
Consider these tips and look into some office trailers for your business.
Renting or Buying Used Office Trailers in Louisville
When you look into office trailers for rent, there are several style and size options.
Renting an office trailer generally costs between $100 and $500 monthly, while buying it can cost upwards of $20,000.
For a trailer that is 8×20, it'll generally cost you between $100 and $200 per month. A 10×40 trailer can cost upwards of $300 per month, while a trailer that is 12×60 can cost as much as $500 per month.
Check into different sizes to make sure you're clear on how much you'll pay for the rental.
Think about whether you need the trailer for the long-term or short-term since this will dictate what decision make. If you only need a short-term trailer, renting is likely the best choice for you.
When you know that you are going to need this extra space for the long-term, you will want to consider buying or leasing an office trailer.
Solutions:
Mobile Offices

Portable Buildings

Sales Offices

Construction Trailers

Mobile Class Rooms

Office Trailers

Rentals & Purchases

Low Cost Financing Options
Decide on the Use and Arrangement of These Trailers
If you're going to set up some office trailers on your property, they need to be arranged in a way that works for you.
Know your property boundaries, terrain and limitations, and be sure that you choose a trailer that is best. For instance, you might need this trailer as an IT database center, a construction site office, or an extra classroom building.
Plan Out Your Timetable For Use and Get the Right Installation
Whether you are going to buy or rent the trailer, you'll need to handle the logistics and plan out the timetable. For example, it might be necessary to plan it out over the weekend or to take an off day.
Always research the company that is going to install your trailer. Choosing the right company will let you know how much the service will cost, what kind of timetable the installation will take, and any other work you need from them.
Louisville Office Trailers – Maintenance
Outside of getting your office trailer installed, you should also strive to keep your office trailers in a good position.
In doing this, you will want to manage your utility services.
Definitely be sure that you keep up with your air conditioning maintenance. This service will cost you about $160 or so for a typical repair. Keep your plumbing system intact as well to know that your trailer is properly draining water.
If you are thinking about buying or renting a used office trailer, you'll definitely want to keep it maintained to be on the safe side.
Reach out to us to get quotes on an office trailer that'll be perfect for your needs.
Zip Codes Served: 40041, 40205, 40207, 40222, 40223, 40243, 40245, 40299.