Used Office Trailers in Kansas City, MO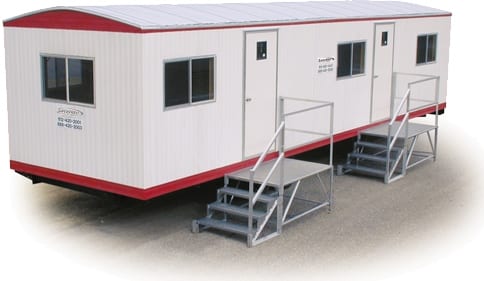 – Used Construction Trailers
– Office Trailer Rentals
– Mobile Offices
– Portable Classrooms
– Portable Buildings
How it works. . .
1. Fill out a simple form
2. Get FREE written quotes to compare.
3. Select the best offer and save!
Save Up To 30% on Mobile Offices, Trailers, and Portable Buildings
Rent, Buy, Lease Used Mobile Office Trailers
In a hurry for temporary office space? A wide range of business owners benefit from using mobile office trailers in Kansas City.
Whether you're looking for a mobile trailer that can move with you, or you need space for staff because you're in between locations, we have trailers to fit most business needs.
If you haven't considered a portable office trailer, take a minute and read this post. You'll learn more about how they're used, features, and sizes
Solutions:
Mobile Offices

Portable Buildings

Sales Offices

Construction Trailers

Mobile Class Rooms

Office Trailers

Rentals & Purchases

Low Cost Financing Options

According to Biz Journals, 66 big construction projects were underway in Kansas City in 2019.
The companies working on these projects often use used construction trailers as mobile office spaces. These mobile offices can move from one job site to the next as necessary.
Do you work in Kansas City construction or a similar field? You might be considering purchasing a used office trailer. Continue reading to learn key considerations to make when choosing one for your company.
How Much Do Used Office Trailers Cost in Kansas City, MO?
The price of used office trailers in Kansas City, MO will vary based on several factors. The size, condition of the trailer, and whether it will be purchased or bought are a few things to consider.
Renting the smallest office trailers will start at about $140 and range upwards. Purchasing a used trailer will start at around $4,000. The price can be a lot higher than this, and in some cases, you might be lucky enough to find one cheaper.
Common Uses of Mobile Offices
Mobile offices are often used by companies that need to move from one place to the next. This typically includes construction companies. It can also include those in the medical industry, education, or agriculture.
Businesses needing a temporary solution while awaiting permanent construction might use mobile offices. It's common for these trailers to be used as classrooms while schools expand or renovate.
Features to Look for in Used Construction Trailers
Not all used construction trailers are created equally. Some are incredibly basic while others have a lot of extra features.
One of the most common features is a bathroom. In some cases, companies need two bathrooms. Not all companies will need a restroom for themselves or their employees.
Space is another feature. Besides general sizing, some companies need extra rooms to fulfill their company's purpose. A mobile medical unit might need an extra room or two for examinations, for example.
What Size Office Trailer Is Needed?
Used construction trailers come in a wide variety of sizes. Many companies wonder what size they need. The answer will depend on several factors.
How many people will the trailer need to accommodate?
How much space is available at your job site?
How much of that space is usable?
An office trailer can't be larger than the available space at your work site. It's important to consider if any space needs to be used for something else, too. You don't want to cramp the workspace.
A general rule of thumb is you need at least 100 square feet of internal space per person. This means if you have a two-person office team, you need only at least 200 square feet. If you need to accommodate a ten-person medical team, you'll need at least 1,000 square feet of space.
These are only rough estimates. You'll also want to consider other things.
Consider the furniture or equipment you'll keep inside your used construction trailer. Think about how often other people would be inside.
Medical offices will have patients in and out. So, they may want to account for at least one other person in their configurations.
Learn More
Still have questions about used construction trailers? Looking to buy or rent a trailer in Kansas City, MO? Contact us today.