Used Office Trailers in Fresno, CA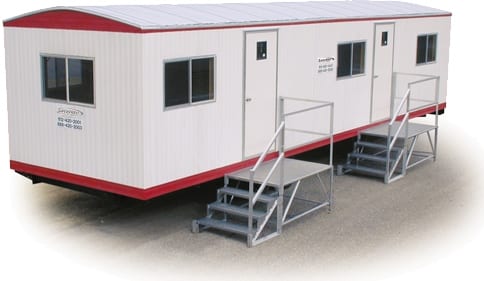 – Used Construction Trailers
– Office Trailer Rentals
– Mobile Offices
– Portable Classrooms
– Portable Buildings
How it works. . .
1. Fill out a simple form
2. Get FREE written quotes to compare.
3. Select the best offer and save!
Save Up To 30% on Mobile Offices, Trailers, and Portable Buildings
Rent, Buy, Lease Used Mobile Office Trailers
In a hurry for temporary office space? A wide range of business owners benefit from using mobile office trailers in Fresno.
Whether you're looking for a mobile trailer that can move with you, or you need space for staff because you're in between locations, we have trailers to fit most business needs.
If you haven't considered a portable office trailer, take a minute and read this post. You'll learn more about how they're used, features, and sizes
Solutions:
Mobile Offices

Portable Buildings

Sales Offices

Construction Trailers

Mobile Class Rooms

Office Trailers

Rentals & Purchases

Low Cost Financing Options

Is a Mobile Office Right For Your Business?
When considering whether or not your business is a good fit for an office trailer, consider this—flexibility. Flexibility is what makes mobile trailers an excellent temporary office space solution for any business. They're also easy to set-up for your staff's convenience.
Construction companies are one of the biggest consumers of mobile office trailers. The concept of portability fits well with the nature of the construction business.
Mobile offices also work well for schools when they need extra classroom space. Another ideal user is the growing business that needs temporary office space while waiting for the construction of a new facility.
Best Features of Office Trailers in Fresno
Fresno business owners prefer office trailers for a variety of reasons all of which center around flexibility and convenience.
It starts with delivery. We deliver directly to a job site eliminating your need to spend hours figuring out the delivery logistics.
Standard units come fitted with windows, flooring, and basic lighting. If you purchase a larger trailer, you can often include a bathroom as part of the standard package. AC is usually included, but if you want heat, it's an add-on.
Many companies go with a custom configuration, which means you could also have kitchen facilities.
When you speak with your sales representative, make sure you discuss steps and skirting. Both are considered add-ons but some vendors include them as standard. Phone/internet connections are also add-ons in most cases.
Some cities require permits when you install electricity and plumbing in a mobile office trailer. Check with your local building department for their rules.
What Size Trailer Do You Need?
Another reason mobile trailers are so popular is the variety of sizes and floor plans available. Here are the most common sizes:
Single Wide—14' wide or less.
Double-Wide—24'
Triple-Wide—roughly 42'
Single-wide, the most common size allows space for a private office and open space used either for meetings or as storage. If you need more office or open space, consider a double-wide.
The triple-wide isn't as common, mainly due to its size. Because of the larger size, triple-wide trailers come in two pieces, which are assembled at your site. Both the double and triple-wide trailers allow space for a kitchen, break, and bathroom area.
Need Help Selecting Your Mobile Office Trailer?
Business owners like you rent or buy mobile office trailers in Fresno California every day. It's a simple solution for a common business problem—space.
Whether you're looking for a one office trailer or you need multiple office, meeting, and kitchen space, we have a trailer to fit your needs. The best place to start is with our quick and easy online quote. We look forward to serving you.